FORUM-DIRECT
QUALITY

WITHOUT COMPROMISE
FOR THE
LAW ENFORCEMENT

COMMUNITY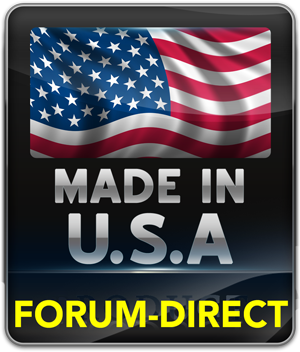 PROUDLY MADE IN AMERICA
FORUM-DIRECT® products are proudly made in America by a dedicated and loyal workforce of highly skilled artisans, who are thoroughly experienced in apparel manufacturing. They take pride in every garment they produce and represent the finest in American craftsmanship. Many of Forum's employees have been with the company since its inception in 2001.
Advanced Fabric Technologies
GORE® Advanced Products for Law Enforcement represent the newest fabrics and designs available from Gore. They are durable, lightweight fabrics that stand up to the rugged requirements of the job and maximize comfort and protection from the elements.
Innovative Layering System
The GORE-TEX® LIGHTWEIGHT PATROL SHELL and WINDSTOPPER® PATROL SOFT SHELL by Forum Industries represent an innovative new layering system, which replaces bulky coats and rain gear. The jackets can be worn comfortably throughout the entire shift either individually or layered together as conditions require.
Fast Delivery
By placing orders directly with the manufacturer, delivery is weeks away instead of months through dealers or distributors.
Genuine Components at Amazing Prices
All Forum products feature only GENUINE GORE FABRICS. We never cut quality, but we do cut our overhead. By selling direct to our customers and eliminating distribution networks, you CAN AFFORD to wear the best.
Made Your Way in the USA
We offer a wide variety of options on our products. Because we make each order in our own facility in Texas, we can produce a customized, personalized version just for you. Every process is done in-house, by the Forum team. We do not outsource, so you can be assured that we will take care in producing the best product possible by our professional team.
We Understand Law Enforcement
Forum has a dedicated team of regional representatives with many years of experience supplying law enforcement agencies. Each representative understands the market's unique product needs, logistics requirements and purchasing procedures. Our team is there to assist you in selecting the perfect products to meet your individual needs.
GORE CERTIFIED MANUFACTURER
Headquartered in San Antonio, Texas, Forum Industries is a diversified business that specializes in cut, sew and trim operations for various industry sectors. Forum has earned the prestigious designation of €Certified Manufacturer of GORE® AdvancedProducts for Law Enforcement." Certification carries with it the distinction that Forum€s facilities, operations, equipment, processes, procedures and performance meet the stringent standards set by W. L. Gore & Associates, Inc. Gore works closely with FORUM from initial product design, to rigorous laboratory and field testing, and final product performance to ensure that your outerwear will meet the expectations of the world€s most trusted windproof, waterproof and breathable outerwear
SHOP THE ADVANCED PRODUCTS FOR LAW ENFORCEMENT CATALOG