GORE-TEX® Products
ALL DAY COMFORT,

ALL-WEATHER PROTECTION
SOMETIMES YOU NEED TO BE WARM AND PROTECTED AGAINST HEAVY RAIN OR SNOW. THIS IS WHERE GORE-TEX® FABRIC COMES IN. THIS FABRIC IS COMPLETELY WATERPROOF, WHICH KEEPS YOU DRY. GORE-TEX® FABRIC IS ALSO WINDPROOF — ANOTHER KEY PART OF STAYING WARM — AND IT IS BREATHABLE, HELPING YOU STAY COMFORTABLE BY ALLOWING PERSPIRATION VAPOR TO ESCAPE.
LONG-LASTING PROTECTION FROM INCLEMENT WEATHER
Keeping dry and comfortable as a patrol officer allows you to focus on the necessary tasks to perform your job successfully. GORE-TEX® fabrics keep you drier, warmer, and more comfortable in all types of weather. These fabrics are completely waterproof, even after exposure to a wide variety of conditions that cause other barrier products to break down. GORE-TEX® fabrics also keep you significantly warmer by blocking the wind and preventing body heat from escaping.
CONTINUED COMFORT
As a patrol officer, you need to remain comfortable whether you are working a traffic detail or making an arrest. Highly breathable GORE-TEX® fabrics improve comfort by allowing perspiration to escape from the garment or boots, reducing heat stress and keeping you, your clothing, and your boots drier. This high level of breathability combined with excellent protection against inclement weather allows you to stay dry and comfortable with a more flexible garment that has fewer layers.
MAXIMUM DURABILITY
Rigorous physical activity is an essential component of a patrol officer's job, so your outerwear must be durable. FORUM products made with GORE-TEX® fabrics are engineered to last up to three times as long as other waterproof fabrics without compromising your protection or comfort. This fabric maintains its outstanding protection over time, even after exposure to contaminants such as DEET insect repellent, gun cleaner, and gasoline, as well as to repeated wash/dry cycles. To ensure this level of protection, the seams of each FORUM garment made with GORE-TEX® fabric are sealed with a proprietary technology developed by Gore. The result is a durable fabric that you can count on to protect you even in the harshest weather.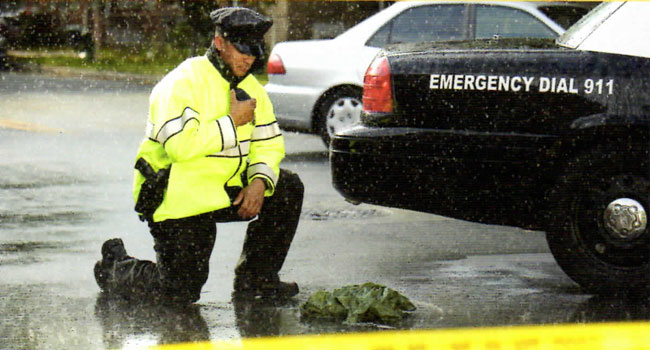 GORE-TEX® products are engineered to keep you dry and comfortable in the most challenging weather conditions. Since the delivery of the first garments made with GORE-TEX® fabric in 1976, we have continued to improve and evolve to keep in step with the changing needs of our customers, while maintaining the core benefits of this fabric — durable waterproof, windproof, and breathable protection.
BENEFITS OF GORE-TEX® FABRIC
Long-lasting protection from inclement weather
Unsurpassed comfort with excellent breathability
Maximum durability in rugged conditions
Durable protection even after exposure to petroleum, oils, and other lubricants
Watertight, even after direct contact with heat
TYPICAL APPLICATIONS

Military outerwear
Military footwear
Military gloves
Law enforcement outerwear
Law enforcement footwear
Ballistic covers for body armor
Backed by the research and testing that comes with the GORE-TEX® product label, the durable, highly breathable fabric technology of this garment is based on specialized technologies developed for military and highly active outdoor applications. The result is increased value with a waterproof, windproof, breathable jacket you will want to wear!
SOLUTIONS FOR ALL YOUR NEEDS
W. L. Gore & Associates has developed durable GORE-TEX® fabrics with a variety of textiles to provide waterproof protection with additional features such as high visibility, abrasion resistance, and anti-static protection. For assignments that keep you outside in all types of weather, be assured that there is a GORE-TEX® fabric that meets your outerwear needs.